X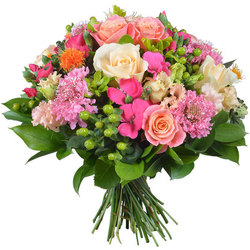 Product pictured : 40,00€
Bright spring colour!
From 35,00€
Bright spring colour!!
To welcome in the new season, we've created an explosion of colour with this bouquet of magnificent 'Mag Avalanche' and 'Miss Piggy' roses, gorgeous 'Candy Scoop' scabious, dainty 'Solomio Imre' dianthus, delicate 'Alissa Light Apricot' lisianthus and generous 'Zanzibar' carthamus, surrounded by a handful of green hypericum berries and seasonal foliage. Treat someone now!